Web of lies: Andrew Garfield even kept ex Emma Stone in the dark about Spider-Man
Los Angeles, California – Andrew Garfield and Emma Stone were a couple for four years after they met on the set of The Amazing Spider-Man in 2012. Although they remain friends, there are still things they clearly don't share.
Garfield has starred in two previous Spider-Man movies, but his appearance in the franchise's newest offering, Spider-Man: No Way Home, has been kept completely under wraps.
In a new interview on the Happy Sad Confused podcast, the actor detailed how secretive he was about his involvement in the superhero movie, and even kept the news from those closest to him.
"Emma kept texting me. She was like, 'Are you in that new Spider-Man movie?'" he said. "And I was like, 'I don't know what you're talking about.'"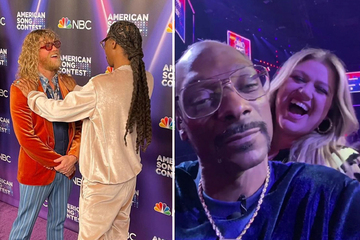 TV shows
American Song Contest: Kelly Clarkson and Snoop Dogg vibrate in the semi-finals
Clearly, the exes are still on good terms since their split in 2015.
"She was like, 'Shut up, just tell me.' … I continued even with her," he laughed. "It was hilarious."
When she finally saw the movie and her ex was in it, Stone had a salty response: "You're a dick."
Garfield said keeping his cameo a secret was both stressful and "oddly enjoyable".
"There were times when I was like, 'God, I hate lying.' I don't like to lie and I'm not a good liar, but I kept presenting it as a game," he said. "And I kept imagining myself purely a fan of this character, which isn't hard to do."
Cover photo: Collage: IMAGO/ZUMA Wire & Independent Photo Agency Int.