Italian director Federico Fellini (1920-1993) became immortal with films including The good life, La Strada and Amarcord. In addition to having won several Oscars, his films remain influential today thanks to the tremendous energy, the thirst for life and the imagination they exude.
In addition to working on his own films, Fellini has also written screenplays for other directors, as well as books. He was also an extremely talented draftsman.
From the idea to the finished film, drawings have been an indispensable tool for Fellini. From sketches to detailed sets, Fellini's drawings expressed his fantasies and helped him translate them into characters, costumes, and sets – and ultimately bring them to fruition.
A selection of Fellini's drawings are now on display at the Folkwang Museum in Essen
Portraits for tourists and soldiers
His passion for drawing led the young Fellini to open a small portrait studio for tourists on the beach in Rimini in 1937.
In the late 1930s, he published cartoons and short stories in newspapers and magazines.
Towards the end of the Second World War, immediately after the capture of Rome by the Americans, Fellini and a group of friends opened a shop where American soldiers could listen to music while having him draw their portraits.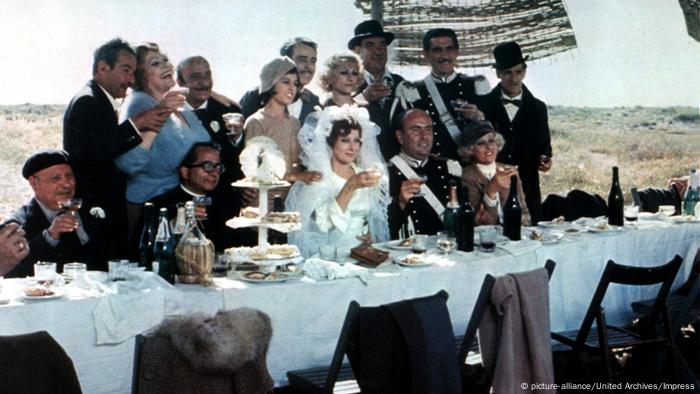 Humorous extravaganza and dreamlike scenes: 'Amarcord' was released in 1973
Much later, his film career benefited from his many years of experience with pen and paper. He used sketches and drawings to visualize his ideas.
"Just as the script represents the verbal phase in the making of a film, I often draw sketches and characters during the preparation period because I want to capture and visually clarify a scene, a role, the costume of a particular character or a mood," Fellini said in a 1973 interview.
Drawings and film extracts
For the first time in three decades, Fellini's drawings are once again on display in a major exhibition at the Folkwang Museum in Essen, showing works from the early 1950s to the early 1980s.
The exhibition, entitled "Federico Fellini. From drawing to cinema", focuses on his drawings for films Amarcord, casanova, city ​​of women and And the ship sails on.
Around 200 drawings are exhibited, juxtaposed with film extracts, screenplay extracts and set plans. The presentation makes Fellini's creative process clear – from the first idea to the finished work.
The exhibition "Federico Fellini. From drawing to film" runs until February 20, 2022 at the Folkwang Museum in Essen.
This article has been translated from German.