The second weekend in June, I attended the Glenn Miller Festival for the first time in Clarinda, Iowa, his hometown, an event that has been going on for 45 years. Although this year's attendance numbers in the hundreds, perhaps partly due to a two-year hiatus caused by Covid, the festival is said to have drawn thousands in previous years. This seems incredible given that Clarinda only has 5,000 residents and probably less than 200 hotel rooms. Literally half the city would have had to show up to hit those numbers.
I arrived in the afternoon of Thursday 9th, so I missed the vocal and instrumental music scholarship competitions that morning. Three winners from each were selected and performed the following morning at a concert by the Glenn Miller Birthplace Society big band, consisting mostly of local musicians. They recreated the Chesterfield-sponsored show that the Miller Group had three nights a week on CBS radio for several years. But that show was about 90 minutes long versus the 15 the original band had. One of the vocals was sung by Jan Eberle, the daughter of Glenn's male vocalist Ray Eberle. She's obviously a regular.
After the kick-off picnic in the cafeteria at Clarinda High School on Thursday, the 11-member U.S. Air Force Shades of Blue Band from Scott AFB, Illinois performed a free concert in the gymnasium. The band is made up of career military personnel and performs around the world in support of the forces that are dispatched from this base. The high school was the site of all events during the festival.
There were several audiovisual presentations during the festival. One was Swing Era big bands collected and organized by Chicago-area media historian Mike Delaney. The videos were enjoyable but there were too many unnecessary conversations while they were playing.
Two much more in-depth presentations took place on Saturday. One was from Dennis Spragg, historian, author, and curator of the Miller Collection at the University of Colorado. This, and much of the festival music, focused on 1942, the last year of Glenn's civilian band. In fact, at Friday night's concert, the band Miller played two songs Glenn performed but never recorded: "Surprisin' Papa Haydn" and "My Melinda and Me." A number of people in the audience clearly knew Miller very well, which generated some very esoteric questions and discussions.
Similarly, an afternoon seminar was led by Loren Schoenberg, senior researcher at the National Jazz Museum in Harlem, and Reinhard Scheer-Hennings, a lawyer in Germany who is also a Miller expert. They discussed Savory's recordings. When I saw this on the show, I thought to myself "why are they doing a seminar on a spice? without remembering that I knew the transcripts released in the 1930s and 1940s by a sound engineer named Bill Savory. These were forgotten until many years later, and Loren, who worked hard to acquire them, is now creating a discography. The majority of the collection is by Benny Goodman, but other bands have also been recorded. There are over 1,000 aluminum discs. Savory had also recorded Goodman's concert at Carnegie Hall in 1938. I found this seminar captivating. I knew Loren but had never met him, until later that day at the Glenn Miller Museum. I must visit the National Jazz Museum on one of my trips to New York.
Naturally, the Glenn Miller Orchestra was on hand, although based on their perpetual touring schedule they might not be an annual fixture. This legacy group of 16 musicians reproduces the original, with four trombones, four trumpets, five reeds and three rhythms. It is now led by Erik Stabnau, who also does vocals. Former frontman for nine years, Nick Hilscher, was here this weekend and was asked to sing several numbers. Their singer, Jenny Swoish, is, I dare say, better than Marion Hutton of the original band. There is also the suite of Modernaires called the Moonlight Serenaders, taken from the brass section. The orchestra gave a concert on Friday evening and a ball on Saturday evening. As the dance opened with "Moonlight Serenade", if I closed my eyes, I could almost imagine being at the Glen Island Casino instead of the gymnasium at Clarinda High School. Many of Miller's hits have been performed. I imagine the band might be tired of playing these tunes at every event, but if you're selling nostalgia, you have to deliver nostalgia.
There were five other paid music offerings over the weekend: the St. Joseph (Missouri) Big Band, Gooch (Michael Gurcuillo) and his Las Vegas Big Band, a Saturday breakfast at the Northwest Fire Station Missouri State University Jazz Group, a request concert by Craig Irvin (which an Internet search turned up nothing) and a solo piano concert by Adam Swanson. Adam's connection to the festival is that he grew up in nearby Shenandoah, Iowa, and appeared here several times during his teenage years. I know Adam very well from the ragtime circuit and having booked him several times at the Tri-State Jazz Society. He is always a big crowd pleaser. As for the other bands, with the exception of Irvin for whom I didn't sign, they were competent but their styles were more modern than my tastes.
You might be wondering: how many times were "In the Mood" and "Moonlight Serenade" played over the weekend? Five and four, respectively, by my count. Although I skipped a gig, I know from the request categories provided that none of these tracks would have been played there.
The festival was due to end on Sunday with a free outdoor concert at the museum, but it was canceled due to a Covid rash in scheduled band Steve Shininger and the ShinShings Orchestra. Instead of the Craig Irvin show, I went to the museum. This visit will be the subject of a future chronicle.
My overall impression of the festival, from the perspective of a single visit, is that it is not done to such a high professional standard as most other festivals I have attended. There was no program booklet with artist information, only a printed calendar of events. There was no questionnaire soliciting participants' feedback on various aspects of the festival. I had not attended before due to the distance from home. I came this year because I could tie in with the Scott Joplin Ragtime Festival the weekend before. The two are about 230 miles apart, which gave me an excuse to take a bike trip to connect them. Although I have always loved the music of Glenn Miller, this year's festival and the music he featured focused solely on his later years, ignoring the considerable role he played earlier as a member and arranger for some of the great bands of the time. Far fewer people know of Glenn's work with Ben Pollack, Benny Goodman and the Dorsey brothers, and the fact that he put together Ray Noble's American band that opened the Rainbow Room at Rockefeller Center in 1934.
I'm likely to return to the Joplin Festival occasionally, so a future appearance here might also happen. I just know that I won't connect the two on a bike. I had crossed this region by bicycle fifteen years ago. The relentless hills of northwest Missouri must have grown longer and heavier since then, for it is certainly not possible that I have grown older and weaker.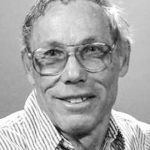 Bill Hoffman is a travel writer, jazz enthusiast, and supporter of musicians who keep traditional jazz alive. He is the concert organizer for the Tri-State Jazz Society in greater Philadelphia. Bill lives in Lancaster, Pennsylvania. He is the author of Going Dutch: A Visitors Guide to the Pennsylvania Dutch Country, Unique and Unusual Places in the Mid-Atlantic Region, and The New York Bicycle Touring Guide. Bill lives in Lancaster, Pennsylvania.