Marvel and Disney confirm four more untitled films will be released in 2024
Burbank, California – Marvel recently announced there will be four more movies will be released in 2024. Will the fifth Avengers film be part of it?
Buckle up, Marvel fans!
The Marvel Cinematic Universe will be here for years to come.
Earlier this week, Walt Disney Studios update its release schedule, confirming that four more untitled Marvel films will hit screens in 2024.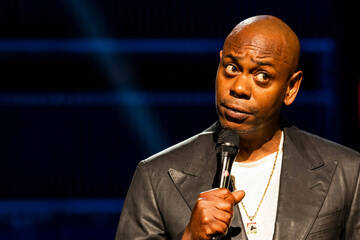 Celebrities
Dave Chappelle breaks silence amid backlash against Netflix comedy special
So far, the release dates for the mystery films are February 16, May 3, July 26, and November 8.
Currently, the MCU is entangled in Phase 4, which will end in 2023.
Upcoming films set to release during this timeline include Doctor Strange and the Multiverse of Madness, The Eternals, and Spider-man: No Way Home.
Additionally, the Hawkeye, Secret Invasion, and Ms. Marvel TV shows will debut on Disney +.
While the upcoming projects don't have a title yet, it opens up endless possibilities while also confirming some rumors that some crossovers and standalone projects could be happening.
For example, it's also been confirmed that there will be a fifth Avengers movie, although it won't be out anytime soon.
There have also been rumors that the X-Men will eventually make their MCU debut.
And let's not forget that Mahershala Ali has been confirmed to play Blade while Ryan Reynolds will return as Deadpool in a third film.
Another movie to consider is Captain America's fourth film, which will feature Anthony Mackie as the main character.
Still, with the multiverse rampant in Phase 4 already causing issues for the main characters, it's unclear which movies will be released in 2024.
The next Marvel movie to hit theaters is The Eternals, which hits November 5.