Whether he's playing Han Solo in "Star Wars," Rick Deckard in "Blade Runner," or "Indiana Jones" himself, Harrison Ford has made a name for himself as one of Hollywood's most successful actors. Sure, he's got a star on the Hollywood Walk of Fame and too many awards to count, including an Oscar nomination.
A latecomer to the film industry, Ford trained and worked as a carpenter until he was 30 years old. A husband and father of two, he then began supplementing his income with television appearances. These minor roles included bit parts in westerns like "Gunsmoke" and "The Virginian."
Action hero with a crooked smile
That is, until director George Lucas cast him in a supporting role in his low-budget production, "American Graffiti," in 1973. The small role was enough to impress Lucas, who took him to on board for his next project: At 35, Ford made his debut as space smuggler Han Solo in the first "Star Wars" in 1977.
Harrison Ford as Han Solo in the original 'Star Wars' – with Carrie Fisher as Princess Leia Organa and Mark Hamill as Luke Skywalker
Read more: 'Star Wars' creator George Lucas is building a museum in Los Angeles
Read more: Star Wars turns 40, but the Galactic Empire is far from over
That wouldn't remain his only adventure role. Lucas cast the likable, smirking actor in his 'Indiana Jones' movies, where Ford travels the world as an archaeologist with a whip and leather hat, saving valuable cultural treasures from Nazis and other villains. . Three "Indiana Jones" films were released between 1981 and 1989, followed by several more between 1992 and 2008.
Already a Hollywood name, Ford caught the eye of star director Ridley Scott, who cast him in his dark sci-fi film "Blade Runner" (1982) – a film that was initially underrated, but which then became cult.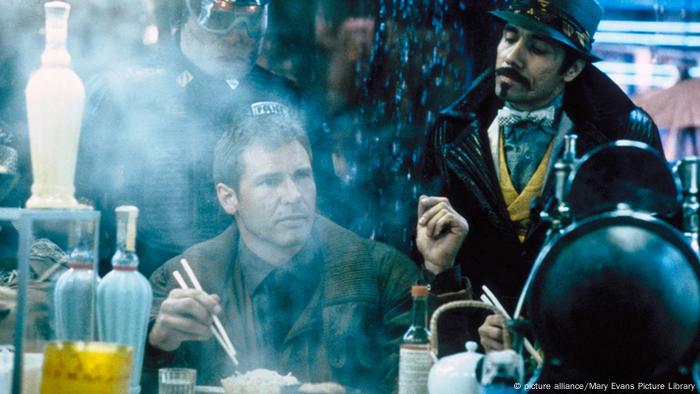 Harrison Ford in a scene from the cult sci-fi classic "Blade Runner"
Ford also had a number of character roles, including in "Witness" (1985) and "The Mosquito Coast" (1986). In his tougher roles, he tends to play responsible men who can show incredible strength in times of danger in order to save himself or others.
Ford ages with his roles
Now with a sizable resume under his belt, Ford continues to make movies – and Hollywood still can't get enough of the characters he played in his youth. In 2015, he returned to "Star Wars" as an older Han Solo. In "Blade Runner 2049", which will be released in October 2017, he will once again play ex-cop Rick Deckard alongside young star Ryan Gosling.
Producer George Lucas and director Steven Spielberg also keep Ford busy. As Professor Dr. Henry Walton "Indiana" Jones, he will return to the big screen in 2020 – considerably older, but not without his whip and leather hat.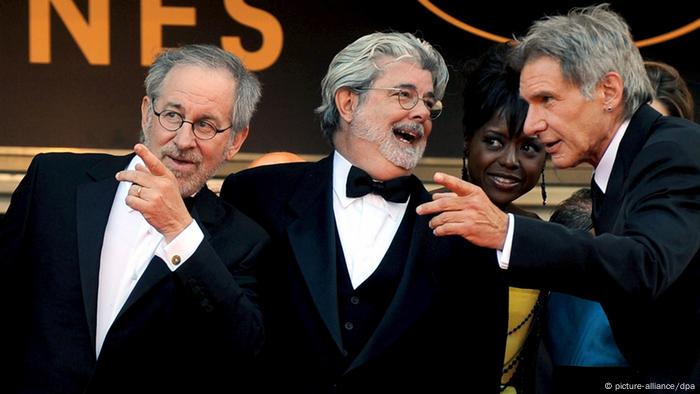 Dream team: director Steven Spielberg, producer George Lucas and actor Harrison Ford have teamed up for four 'Indiana Jones' movies
Hollywood star without major scandals
Ford has been known to keep his private life more or less under wraps – although we know he's been through one of Hollywood's most expensive divorces. After 20 years of marriage to his first wife Melissa Mathison, he paid $72 million in child support in 2004. But that's a drop in the pond for Ford, who according to the 2009 Forbes list was once Hollywood's highest-earning actor with an annual income of around $57 million.
Today, Ford is married to actress Calista Flockhart, who has made a name for herself as "Ally McBeal." He has five children and two grandchildren and lives on a ranch in Wyoming.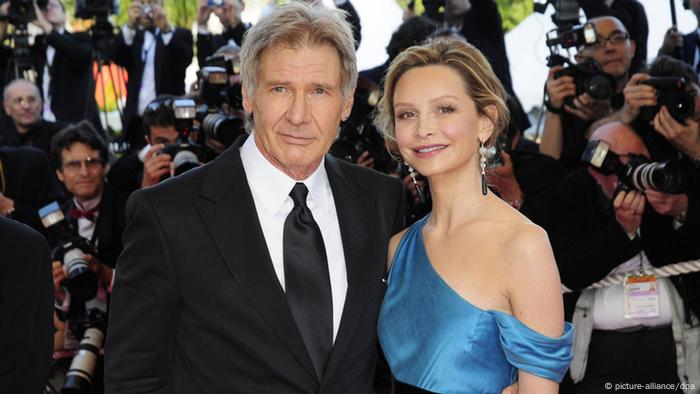 Harrison Ford and Calista Flockhart have been married since 2010
The passion for airplanes
Ford's hobby is flying. He collects old planes – he supposedly owns seven – and flies them regularly. But his aerial passion was not without incident.
In 2015, Ford crashed on a golf course near Los Angeles. He survived, but was seriously injured. In February 2017, he landed on a taxiway instead of a runway and approached a jet airliner. He almost lost his pilot's license.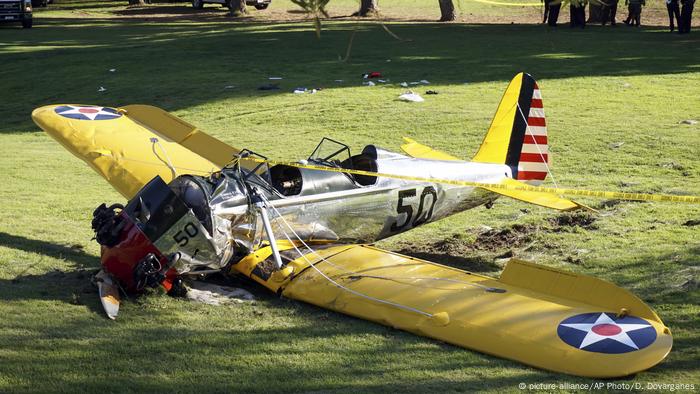 The Harrison Ford plane crashed into a golf course in Los Angeles in 2015
For years, Ford has been committed to protecting the environment, particularly in the fight against pollution of the Hudson River. He has advocated for the protection of the rainforest in Indonesia and sits on the board of directors of Conservation International, an NGO committed to the preservation of biodiversity.
Ford was honored for his environmental commitment by having two living creatures named after him: a Californian spider, Calponia harrisonfordi, and a Central American ant, Pheidole harrisonfordi.